Projects
Project Archive
We're proud of every site we've built. A complete list of our clients' sites is provided for you to browse, and on this page we've selected sites that showcase particular features.
NZAMI
Launched: 1st Oct 2009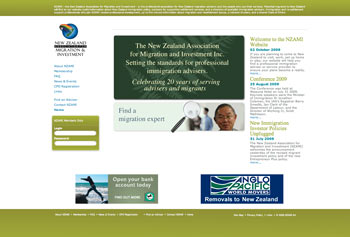 NZAMI - the New Zealand Association for Migration and Investment - is the professional association for New Zealand migration advisors and the people who use their services. Potential migrants to New Zealand will find on this website useful information about New Zealand immigration policy, contacts for supportive settlement services, and a directory of specialist immigration advisers.

Immigration and re-settlement support professionals who join NZAMI receive professional development, up to the minute information about migration and resettlement issues, a network of peers, and a shared Code of Ethics.
Visit Site: http://www.nzami.org.nz/
Category: Immigration
Site Feature:
News Management Module
Links Management Module
Custom Data Management Module
Exported Data Upload
Rotating image pools
Menu Module
AJAX
Content Management