Projects
Project Archive
We're proud of every site we've built. A complete list of our clients' sites is provided for you to browse, and on this page we've selected sites that showcase particular features.
Zenfro Alaskan Malamutes of Distinction
Originally Launched: 29th Jul 2004 - Latest redevelopment 13th Jan 2010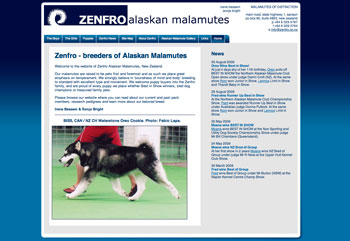 A unique feature of this site for New Zealand malamute breeders Zenfro is that you can quickly discover the provenance of these gorgeous Alaskan malamutes -- fine dogs which are much sought after. A photo gallery introduces the Zenfro dogs (including the latest puppies) and their antecedents. This site is built around an extensive malamute pedigree database, currently showing six generation pedigrees.
Visit Site: http://www.zenfro.co.nz/
Category: Dogs, cats, pet services
Site Feature:
News Management Module
Links Management Module
Custom Data Management Module
Rotating image pools
Gallery Module
AJAX
Content Management