Projects
Project Archive
We're proud of every site we've built. A complete list of our clients' sites is provided for you to browse, and on this page we've selected sites that showcase particular features.
Alyx Duncan
Launched: 15th Jul 2009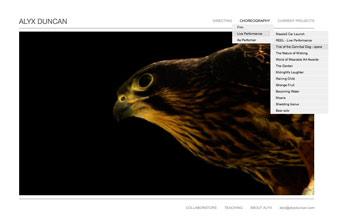 Alyx Duncan is a New Zealand based film maker, choreographer and performer. This site is designed to allow Alyx to showcase her work.
Visit Site: http://www.alyxduncan.com/
Category: Visual Arts
Site Feature:
News Management Module
Links Management Module
Custom Data Management Module
Rotating image pools
Menu Module
Content Management