Projects
Project Archive
We're proud of every site we've built. A complete list of our clients' sites is provided for you to browse, and on this page we've selected sites that showcase particular features.
Tommy Love - entertainer extraordinaire
Launched: 16th Jun 2009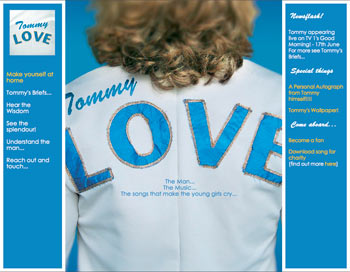 Tommy Love, the extremely talented and glamorous singer-songwriter, entertainer and philanthropist, is having a fabulous 2009, with a richly successful Valentine's Day Spectacular accompanied by the Loungerillo Orchestra and the luscious Loungerines, and a series of appearances on morning television. Equally at home in Las Vegas, USA and Wellington, New Zealand, wherever he performs his sweet music is sure to win women's hearts.
Visit Site: http://www.tommylove.com
Category: Music
Site Feature:
News Management Module
Gallery Module
Menu Module
AJAX