Projects
Project Archive
We're proud of every site we've built. A complete list of our clients' sites is provided for you to browse, and on this page we've selected sites that showcase particular features.
Intuitive Readings- Shari Rhodes
Launched: 16th Apr 2009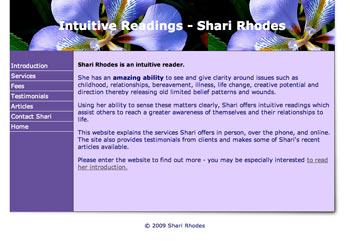 Intuitive reader Shari Rhodes called on @URL when she needed to recover a lost website, provide a comforting new colour palette to replace the previous palette, and add her rapidly growing library of articles to the site. She also wanted to be sure her new site would be indexed well by search engines, as the old site had not been successful at doing so.
Visit Site: http://www.intuitivereadings.co.nz
Category: Peace of mind