Projects
Project Archive
We're proud of every site we've built. A complete list of our clients' sites is provided for you to browse, and on this page we've selected sites that showcase particular features.
Te Manukanuka o Hoturoa Marae
Launched: 18th Jun 2008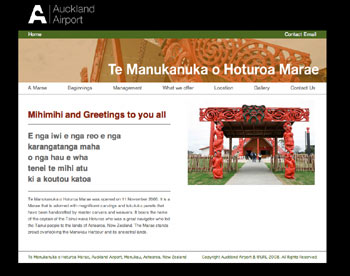 Te Manukanuka o Hoturoa Marae at Auckland Airport provides provide a cultural heart for the airport where all people will be welcomed under the tikanga (protocols) of Tainui. This beautifully carved Marae provides a place where all can share our Maori culture. The Marae can be an alternative conference venue, space for school programmes, overnight stays, short stays and a gathering place for most occasions.
Visit Site: http://www.airportmarae.co.nz
Category: Travel and Tourism, Hospitality