Projects
Project Archive
We're proud of every site we've built. A complete list of our clients' sites is provided for you to browse, and on this page we've selected sites that showcase particular features.
SDL Music Limited
Launched: 12th Apr 2007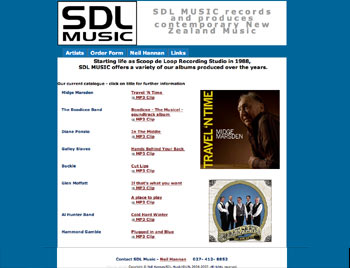 SDL MUSIC records and produces contemporary New Zealand Music. The company was established in Auckland, New Zealand in 1988 and was formerly known as Scoop de Loop Recording Studio, and is operated by bassist Neil Hannan. The web site provides information about a variety of albums produced over the years by SDL.
Visit Site: http://www.sdlmusic.co.nz
Category: Music
Site Feature:
Links Management Module
Events Calendar Generator
Rotating image pools