Projects
Project Archive
We're proud of every site we've built. A complete list of our clients' sites is provided for you to browse, and on this page we've selected sites that showcase particular features.
A.D.Blake Marine Artist
Launched: 17th Nov 2006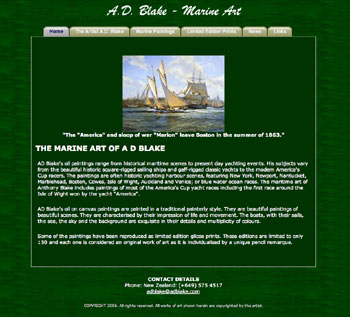 New Zealand artist A.D. Blake is one of the top five marine artists in the world. His historical marine oil paintings range from gaff-rigged classic yachts and square-sailed sailing ships, to historical America's Cup races and contemporary sailing scenes. His maritime art is painted in a traditional style showing the beautiful details of the yachts and their rigging, and the paintings are often historic yachting harbour scenes, or blue-water ocean races.
Visit Site: http://www.adblake.com
Category: Visual Arts
Site Feature:
News Management Module
Links Management Module
Rotating image pools
Art Catalogue Module