Projects
Project Archive
We're proud of every site we've built. A complete list of our clients' sites is provided for you to browse, and on this page we've selected sites that showcase particular features.
Creature Comforts Pet Lodge
Launched: 28th Mar 2006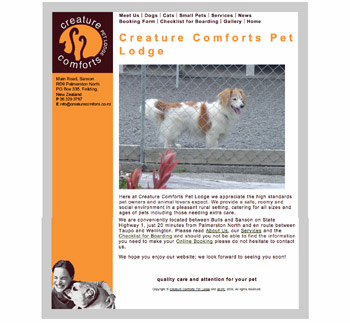 This popular pet lodge in the Manawatu has an enviable reputation for providing the very best and most hospitable service to pets, and peace of mind and the greatest of satisfaction to pet owners. The Lodge provides boarding for cats, dogs and small pets of many varieties, and is also home to Zenfro Alaskan Malmutes, greyhounds, and a number of unusual animals including alpacas, kune kune pigs and diverse birds.
Visit Site: http://www.creaturecomforts.co.nz
Category: Dogs, cats, pet services
Site Feature:
News Management Module
Custom Data Management Module
Rotating image pools