Curve and @URL are delighted
to congratulate....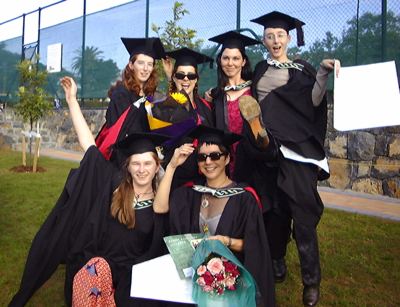 New Zealand's first dance degree graduates - 1999
seen here with their certificates for
the UNITEC Bachelor of Performing and Screen Arts
- BPSA (Major in Contemporary Dance).
From left to right
At back: Melissa Baird, Malia Johnston, Kelly Nash, Anja Packham
In front: Tasha Alpe, Abi Needham
In absentia: Vicki Kapo, Maria Wortmann, Moss Patterson, Stuart Armstrong, Jackie Grey, Yu Fen Wang
Malia, Kelly and Anja are joining CURVE for the 2000 season of "Five Girls Called Doris"; Malia and Anja also joined CURVE for "D-Tour: an urban dance accident".
Malia is choreogaphing for the Touch Compass Dance Lab project. Moss and Stuart are members of FOOTNOTE Dance Company during 1999. Kelly will be dancing in Shona McCullagh's "Mad Angels" and Jackie will be understudy for that production. Former NZ rock 'n roll champion Melissa is rehearsing for the national rock 'n roll championships. Abi is teaching Contact Improvisation. Vicki is working with Yu Fen on an upcoming dance production. Malia and Kelly will be seen in an upcoming episode of "Xena Warrior Princess". Viki, Tasha, Malia, Kelly and Maria are performing and teaching at the Bay of Islands Festival. Malia, Maria and Viki are developing new works to be performed later this year.