Projects
Project Archive
We're proud of every site we've built. A complete list of our clients' sites is provided for you to browse, and on this page we've selected sites that showcase particular features.
Biohance Man
Launched: 16th Dec 2008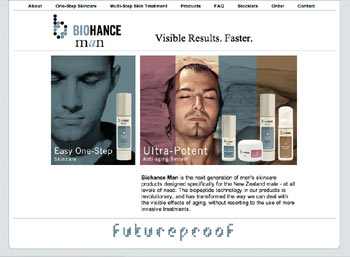 Biohance Man is the retail range of skincare products manufactured by privately owned New Zealand company Optimus Healthcare Ltd. Biohance Man provides public access to research-based cosmeceutical products developed with the latest and proven findings in skin science.

The company provides a custom formulary and small scale manufacture service to an increasing number of appearance professionals, and the Company's ability to research and source latest technology ingredients internationally, ensures that client practitioners are able to provide their patients with the latest products.


Visit Site: http://www.biohanceman.co.nz
Category: Cosmetics