Projects
Project Archive
We're proud of every site we've built. A complete list of our clients' sites is provided for you to browse, and on this page we've selected sites that showcase particular features.
Biohance
Launched: 6th Oct 2008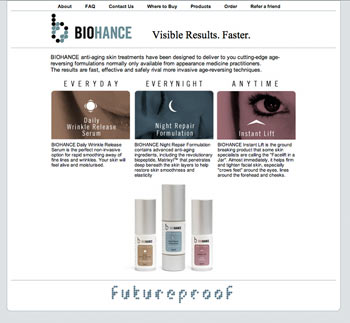 Optimus Healthcare Ltd established their retail brand, BIOHANCE, to give public access to research-based cosmeceutical products developed with the latest and proven findings in skin science. BIOHANCE anti-aging skin treatments have been designed to deliver to you cutting-edge age-reversing formulations normally only available from appearance medicine practitioners. The results are fast, effective and safely rival more invasive age-reversing techniques.


Visit Site: http://www.biohance.co.nz
Category: Cosmetics