Projects
Project Archive
We're proud of every site we've built. A complete list of our clients' sites is provided for you to browse, and on this page we've selected sites that showcase particular features.
Profile Ltd
Originally Launched: 24th Nov 2004 - Latest redevelopment 18th Apr 2011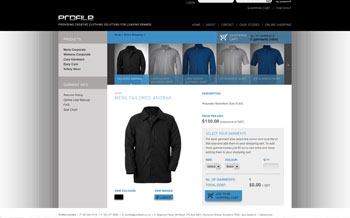 Profile Ltd are a company which supplies branded apparel to major companies and retail chains. @URL supplied the web back end to allow clients to order apparel via the web, which is then passed onto their in house order processing system.
Visit Site: http://www.profileltd.co.nz/
Categories: Ecommerce, Projects with other developers
Site Feature:
Custom Data Management Module
AJAX