Projects
Project Archive
We're proud of every site we've built. A complete list of our clients' sites is provided for you to browse, and on this page we've selected sites that showcase particular features.
Uniform Shelf
Launched: 17th Sep 2015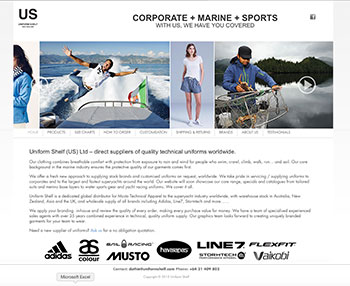 Uniform Shelf (US) provides high quality technical garments worldwide. Their customisable clothing combines breathable comfort with protection from exposure to rain and wind for people who swim, crawl, climb, walk, run... and sail. They offer the best brands available on the market.

Visit Site: http://uniformshelf.com
Category: The Marine Industry
Site Feature:
Custom Data Management Module
Rotating image pools
Menu Module
Content Management