Projects
Project Archive
We're proud of every site we've built. A complete list of our clients' sites is provided for you to browse, and on this page we've selected sites that showcase particular features.
Asia Pacifc Superyachts New Zealand
Launched: 20th Aug 2015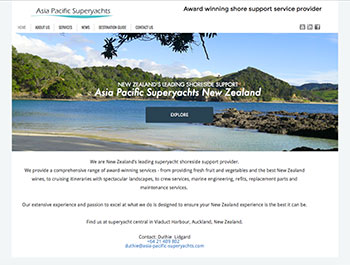 Leading New Zealand superyacht support agency based in the Viaduct Basin, Auckland. The website was originally developed by Albatross PR but has now been transferred from Weebly to Free Parking, with some redevelopment of structure, navigation, content and a new CMS.
Visit Site: http://asia-pacific-superyachts.co.nz
Category: The Marine Industry
Site Feature: