Projects
Project Archive
We're proud of every site we've built. A complete list of our clients' sites is provided for you to browse, and on this page we've selected sites that showcase particular features.
Superyacht Private Expeditions
Launched: 1st Aug 2013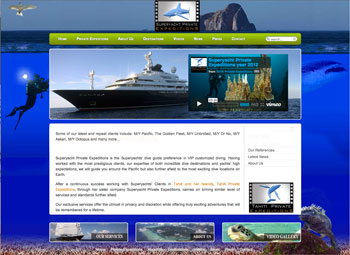 Superyacht Private Expeditions and Tahiti Private Expeditions are twin companies with shared expertise, offering specialised services to superyachts in prime diving locations around the world and especially in French Polynesia. We have created for them twin web sites sharing a complex Content Management System.
Visit Site: http://www.superyacht-private-expeditions.com/
Category: Travel and Tourism, Hospitality
Site Feature: