Projects
Project Archive
We're proud of every site we've built. A complete list of our clients' sites is provided for you to browse, and on this page we've selected sites that showcase particular features.
Koshinkai Aikido Dojo
Launched: 5th May 2010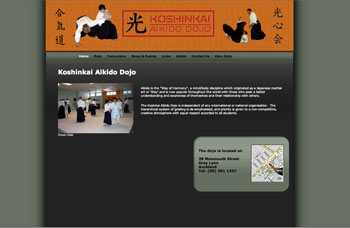 The Koshinkai Aikido Dojo in Auckland, New Zealand is independent of any international or national organisation. The hierarchical system of grading is de-emphasised, and priority is given to a non-competitive, creative atmosphere with equal respect accorded to all students.

Aikido is the "Way of Harmony", a mind/body discipline which originated as a Japanese martial art or 'Way' and is now popular throughout the world with those who seek a better understanding and awareness of themselves and their relationship with others.


Visit Site: http://www.aikido.co.nz/
Category: Sports
Site Feature:
News Management Module
Links Management Module
Custom Data Management Module
Rotating image pools
Content Management