Projects
Project Archive
We're proud of every site we've built. A complete list of our clients' sites is provided for you to browse, and on this page we've selected sites that showcase particular features.
KG Recruitment
Launched: 14th Aug 2008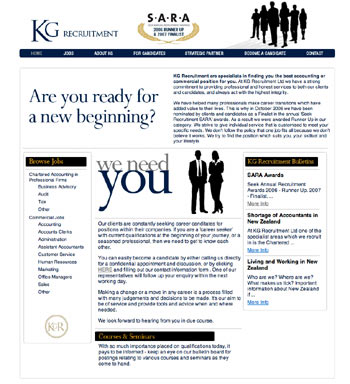 Chartered accounting and commercial recruitment specialists, KG Recruitment needed a fresh new web site plus the ability to easily update their own vacancies and content. Gillies & Associates provided the look, and @URL provided the AJAX features, CMS and stylesheets.
Visit Site: http://www.kgrecruitment.co.nz
Category: Recruitment
Site Feature:
News Management Module
Custom Data Management Module