Projects
Project Archive
We're proud of every site we've built. A complete list of our clients' sites is provided for you to browse, and on this page we've selected sites that showcase particular features.
Eventing Auckland - Puhinui Horse Trials
Originally Launched: 13th Aug 1998 - Latest redevelopment 17th Sep 2009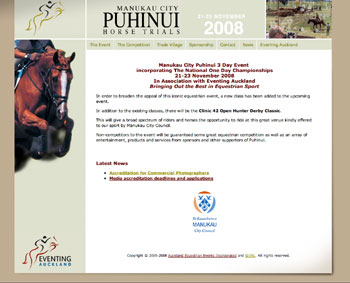 The Southern Hemisphere's premiere equestrian competition, the Puhinui International Horse Trials Three Day Event at the spectacular Puhinui Reserve, Manukau City is coming up to its 15th year of operations. The event combines three days of equestrian competition for national and international riders and a trade village. The Three Day equestrian competition draws up to30,000 spectators to view dressage, cross-country and show jumping. Featuring top New Zealand and Australian riders, the Event boasts over $50,000 in prize money. It is run by Eventing Auckland.



Visit Site: http://www.3dayevent.co.nz
Categories: Recurrent Events, Sports
Site Feature:
News Management Module
Links Management Module
Custom Data Management Module
Rotating image pools
Race Results Module