A Truck With Arthritis
The border post to Uganda consisted mainly of round corrugated iron buildings which looked like the type of temporary housing usually donated for disaster victims. There was a good chance that was exactly what they were and they had never made it to their intended recipients. The first official, in the only solid looking building, took a long time studying out passports. "The British now need visa for Uganda", He said with an extortionate gleam in his eye. We were half expecting this after what had happened to the people on the tour truck. "We called the Embassy in Kampala yesterday and they said visas wouldn't be required for another month", we lied convincingly. Outsmarted he replied. "Yes, that is right, I was only letting you know". The Indians who were in front of us on the road from Beni to the border were also here. They appeared to be having a harder time than us. As I entered one hut I saw the Indian passing some money to an official under the table. We seemed exempt from this treatment until we got to the final and least significant official in the smallest and darkest hut. he came straight out and said to us. "Give me 1000 Shillings". This meant nothing to us, it could have been either a fortune or a trivial amount, we really didn't have a clue. Anyway it is illegal to transport Ugandan money either into or out of the country. "We have no Ugandan money because it is illegal to take it across the border". I said pointing to the sign on the wall which said exactly that. "Ah, Yes", said the minor official, "Give me one soda", which turned out to be about all you could buy with 1000 shillings. "Where do you think we would get a soda from, we've just driven through Zaire", I said. "Ah", he replied with a glimmer of understanding, "You may go".
We set off across the bridge leaving the Indians still at the border post. Ever since we crossed the English channel to France we had been in countries which drive on the right hand side of the road. At least that was the theory. In practice you drove as near to the right as you could, which generally meant the centre or even left hand side of the road. On the other side of the one lane bridge were countries which had been colonised by the English (or were surrounded by such countries) and drove on the left hand side of the road. It had taken a couple of days to become comfortable driving in the right in France, especially in a right hand drive Landrover. As our wheels joyfully rolled onto the tar seal I moved onto the left hand side of the road. This felt uncomfortable for all of about fifteen seconds and I had completely adjusted back. There was also this disconcerting feeling due to the vehicle remaining in a flat plane for more than two metres in a stretch. This must be similar to the sailor who sways from side to side when confronted with solid ground after a long sea voyage. Tar seal was a joy to behold, although pot hole avoidance skills were still more than a little necessary. The joy was short lived. As I gained confidence on this strange smooth surface the speedometer reading crept higher. 20 km/h, 30 km/h, 40 km/h, 50 km/h. We hadn't gone faster than this since the Central African Republic. 60 km/h and I noticed a slight but perceptible judder in the steering. At 70 km/h the front wheels started shaking uncontrollably as though they are about to fall off. I slowed down and they come under control again. A quick investigation reveals that they are still attached to the vehicle and appear to be solid in their mounting. Nothing is obviously loose and we have no choice but to carry on slowly. No brakes, no steering, no Ugandan money and it was getting close to closing time (banking hours are 08:30 to 12:30). There was a bank in the first small town we came too and it seemed like the whole village had decided to go to the bank en-masse. The queue was a typical disorderly African queue and didn't appear to be moving. It didn't look like we would get served in less than an hour and started to leave. One of the cashiers came chasing after us. "Come come" He said, taking us to an empty part of the bank to cash our travellers cheques. He had stopped serving a local woman with a huge wad of cash in front of her. Everyone seemed to accept this as quite normal behaviour. Graham had told us that white people were treated well in Uganda, we were beginning to see what he meant.
While we were limping along at 50 km/h, the fastest we could reliably go without the wheels taking control, the Nissan with the Indians in it finally overtook us. They had been at the border for at least half an hour longer than us. About 10 km further on there the first of many army road blocks in Uganda. The Indians had been pulled over and were in the first stages of what looked like turning into a major search of their vehicle. I slowed down as we approached. When we got closer and the soldiers realised we were white tourists they waved us on. I was a little suspicious but they were all smiling and even the man in charge didn't seem interested in us.
At Kasese we found the Hotel. They weren't set up for camping as such but we could camp in the courtyard for free as long as we ate in the Hotel dining room. The Hotel was just about the only safe looking place to eat in the town so this was a fair deal. I take a good look under the truck and have a close look at the steering damper (a little shock absorber). Any hydraulic fluid which it had ever contained had escaped long ago and it was so much scrap metal. This seemed like a likely cause of our steering problems and we went off in search of brake parts and a steering damper. There were no brake parts for our Landrover anywhere in Kasese but they did have a shock absorber for the steering. "We have only one. Look it is new". I looked at the shock and performed a few simple tests. It was a little scratched and the rubber bushes were slightly damaged but it was significantly better than our one. "This is not new. Look at the scratches and dents", I said. They were adamant "It is a new shock, a good shock". After about half an hour of this I had bargained them down about as far as they would go and went off to fit it. The man who drove the Landrover for the hotel came over and looked at my slightly used shock absorber. He ran it through the same tests that I had, smiled and proclaimed, "This is a new shock". Obviously 'new' had a different meaning here to the one I was used to.
The meals in the Hotel were quite good. I had some Posho, (a large white blob of starch from some kind of yam) in a sort of gravy with the remains of something which may have been a chicken once. There was not much meat on it and it looked like it had been used in more than one meal before. I half expected someone to tell me 'it is a new piece'. It tasted good though and Posho is probably the most filling food I have ever eaten.
Not far from the Hotel was a large rubbish tip. In New Zealand rubbish tips are usually frequented by seagulls. Here the tip was inhabited by some enormous rather scruffy looking birds. They looked a bit like black coloured storks which had fallen on hard times. They looked too big to fly and watching them take off required a momentary suspension of disbelief. As well as being big and scruffy they had a particularly loud and raucous call.
The hotel breakfast was good too. The scenery as we drove along the foothills of the Ruwenzori (mountains of the moon) was quite beautiful. There are guided tours into the Ruwenzoris and the idea of leaving the truck for a while and walking through the Jungle for a while was more than a little tempting. It was now the beginning of the rainy season and there is apparently nothing worse than walking in the mountains in knee deep mud. Anyway I wouldn't relax again until the brakes were fixed. I gently tried out the steering. 60 km/h, 70 km/h, 80 km/h, 85 - uncontrolled juddering. The shock had made some improvement and for much of the time we could drive at 80 km/h for a while until a bump in the road would start the juddering off. We could drive at 50 km/h with no problem whatsoever. In Zaire 50 km/h had often seemed recklessly fast, now it seemed like we were standing still and it was a long slow drive to Kampala. The road seemed like an endless procession of army checkpoints. Some of them just waved us though. Even when they made us stop they didn't give us a hard time, often they were just curious. "Your plates, what country are they from?", they would ask. "British". "How did you get it here?". "We drove it". "Which countries have you come through?" They would ask, trying to catch us out. "Algeria, Niger, Nigeria, Cameroun...". By this time they usually realised that we weren't making it up and would give a big smile of amazement.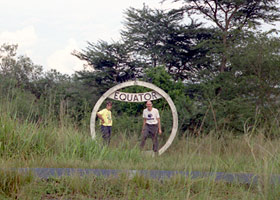 Derek and Fiona on different sides of the equator
Shortly after leaving Kasese we came to a white line painted across the road. Next to it was a large white concrete ring with the word 'Equator' written across it. We did all the obligatory things, jumping from one side of the line to the other, standing with one leg on either side and taking photographs. I set the camera on the table and used the timer to get a photo of the two of us. In a moment of prescient symbolism we stand apart. Fiona in one Hemisphere myself in the other. We had been within two degrees of the equator since Kisangani and now we were finally in the southern hemisphere, for a while at least. We would cross back into the northern hemisphere before Kampala, where once again there was a concrete ring, before crossing back finally to the southern hemisphere once more in Kenya.
Between the army checkpoints there were road tolls, usually 1000 Shillings (about the cost of one soda) and village entry tolls, 50 shillings. According to 'Shoestring' there is a campsite 20 km east of Masaka called the "Church of Uganda Holiday & Conference Centre" on the shores of Lake Nabugabo. The owners are apparently very pleasant and the campsite is beautiful. By the time we reached Masaka we were fed up with driving and the idea of a banda by the lake sounded good to us. We asked the lady at the village exit toll booth which way to go. She pointed down one of the several roads going east of Masaka and said "You can't miss it, just go very straight". After 25 km we realised that this was probably the wrong way. We asked a man for directions and it turned out he was a teacher at the nearby school. We gave him a lift to his school and eventually found the road to the campsite. This was almost bad enough to hold its own with Zaire roads and after driving down here for an hour we arrived at the gates of the campsite. It did indeed look beautiful with the huts next to the lake surrounded by trees. The gate was pad-locked and the gatekeeper did not have a key. He wandered off "I will find it". He came back with the receptionist. "Have you got the key?" we asked. "Yes" she replied. "Could you open it please". "Yes". She stood there without attempting to open the gate. "Do you speak English" we asked. "Yes", she replied. "You don't understand us do you?", "Yes" she replied. "Have you got a key?". "Yes, he has", she said pointing at the gatekeeper, who didn't have a key. "He said you had the key". "Yes", She replied. "Do you want us to stay here?", "Yes", she said. "You don't know where the key is, do you". "Yes, it is lost", she said.
After using some carefully selected words which, fortunately, she couldn't understand, we turned around and drove back for an hour along the appalling road and headed for Kampala. We saw the Indians in the Nissan stopped at a roadside market. They should have been miles ahead of us by now. However, at the army checkpoint yesterday some of their paperwork had been found mysteriously to be invalid and they had been sent back to the border to go through the whole process again! Obviously some more money needed to change hands. "Why didn't you stop at the army checkpoint?", they asked indignantly. "They just waved us through!". Even though the bad times of Idi Amin's reign of terror were thankfully over and the Indians had been allowed, in fact actively encouraged, to return, there was still a certain amount of animosity between the Africans and the Indians.
Entering Kampala at night was like entering Mamfe only many times worse. It may be possible for the night to be darker, somehow I doubt it. To make matters worse there were other vehicles, with a variety of lights pointing in random directions, usually straight into my eyes. As we got closer to downtown Kampala there were street lights and, even closer still, a very few of them were illuminated. The campsite in Kampala is at the YMCA in the centre of town, it did have electricity and a small shop where we bought a soda and some chocolate as a treat. Running water for the shower and toilets was just a little too much to expect though.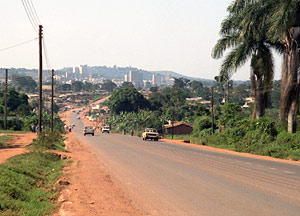 Kampala
Our first job in Kampala was to get a Kenyan visa for Fiona. Although our white skins had seemed to become a blessing at last, this didn't work in the Kenyan Embassy. Being a white female Fiona now rated about the lowest on the list. After several people who arrived later had been served in preference she was told to come back at 16:00. The next stop was Cooper Motors, the Landrover agents in Uganda. After about half an hour of confusion talking to the man at the parts desk and getting nowhere we finally got to meet Keith, the service manager. He was from Solihull, England, home of Landrover and site of my formative years. He had a look underneath while I wiggled the steering wheel. "You need some new suspension bushes", he said, "look". he wiggled the steering wheel while I watched suspension joints click and wobble arthritically. "Common fault with these, especially the early ones. They changed the rubber compound later but it still happens on these roads". He then launched into a horror story of what the suspension looks like if the bushes aren't replaced in time. Our Landrover had had an easy life in England before we bought it. I doubt if it had ever been 'off-road' as such. These were probably the original soft bushes, fine for motorways and country lanes, but self-destructing in mid Zaire. Keith continued, "Has anyone modified the suspension and replaced the springs?". I didn't like the tone in his voice. "No", I replied. "They look like Range Rover springs". "Well", I said, "It used to be owned by the accountant for a Range Rover dealer in Hereford, He could have changed them I suppose". "That could be it", Keith said, "Either that or you've collapsed them". "They still spring", I snapped indignantly, not wanting to think about how much new springs would cost. "That's all right then", he said, unconvinced. He couldn't diagnose the brake problem as the symptoms seemed to be contradictory, his final assumption was that the part which cut off a leaky circuit and turned the warning light on had failed. They never usually went wrong, being such a simple part, and they didn't keep spares in stock. Front pads were getting close to the metal, which I already knew. We had to have the bushes replaced anyway. This was incredibly expensive, six smallish rubber components cost around 70 GBP. In England they would have cost about a third of this, if not less. The labour would have cost a little more, here it was 1.50 GBP an hour (for two men) and took two hours. The final job had probably cost less here than it would in England, although in England I would have done the labour myself and it would have taken six freezing hours and many bruises and scratches. "How long will it take", I asked. "Just over an hour if the electricity stays. Come back in four hours to be safe".
Keith recommended a place to eat lunch, change money at favourable rates and where the best passionfruit juices can be found. "The Hilton does the best passionfruit juice in Kampala. That's were all the people from the Aid agencies spend their afternoons". At lunch we ordered mixed grill from the menu. "Sorry, we have not enough electricity for the grill". Instead we had Pea curry. The passion fruit juice was indeed excellent, in fact we had a second glass. Then it was time to change some money and pick up the truck. When we changed the first amount of money we had been given 200 Shilling notes. These, we now discovered, were a recent innovation. The government had been reluctant to print any larger denominations as they thought this would fuel inflation. The money changer only had 100 Shilling notes. He placed a stack of notes over 30 cm high on the counter. We looked at our money belts. "You're kidding", We said. The man just smiled. In London we had felt quite safe carrying 70 GBP around, after all it barely swelled the sides of a wallet. Walking through the rougher end of downtown Kampala with our pockets literally bulging with money, we felt very conspicuous indeed.
It was a great relief to hand the money over to Keith. "They have just finished", He said. He offered us a cold soda from the large fridge in his office. "It was donated by some people driving the first Tdi Turbo diesel Landrovers down to Richard Leakey in Kenya as anti poaching vehicles. It's not surprising they had collapsed their springs with a load like that!". Our springs, fortunately were genuine Range Rover springs, progressively rated for extra comfort. Which was a great relief. Keith was obviously enjoying regaling us with stories of broken Landrovers, "They all pass through here, it's the first stop after Zaire" and suggested we camp in his compound. At least his shower usually has water.
He took us out to a Pizza restaurant. "Are you using the generator tonight", was the first thing he asked. "No, we are using the mains". "We can order pizzas then". They used the generator whenever the power was too low and it didn't supply enough heat for the pizza oven. "It pays to check before you order" He said. Then we went to an ex-patriots bar for a few drinks. When we got home the lights were barely glowing. "They often get dimmer through the evening", Keith said.
As we left for our tent he said "Oh, don't be alarmed if you hear gunfire in the night. The embassy people live around here and have local guards with AK47s. They always keep them loaded and have their fingers on the trigger. That way, when they fall asleep on the job the gunfire wakes them".
Safe within Keith's walled compound we slept safe and sound. The peaceful Kampala night only occasionally disturbed by short bursts of automatic fire. Fortunately Keith's guard didn't have a gun...
During the few days we spent in and around Kampala we could clearly see the legacy of Idi Amin and the near decade of civil war which followed. There are still many damaged buildings and the failing civic utilities, electricity and water are also a testament to years of abuse. The feeling of decay present in many other African countries was absent here though, replaced by a feeling of optimism and regrowth. All around there were people attempting to repair the damage. Much of the repair and regrowth was financed by foreign aid and it is easy to be cynical and wonder what will happen when the aid runs out. The atmosphere did seem genuine and this was one of the few countries which had an air of optimism. Damaged and torn it may be but it is hard to imagine Uganda crumbling back into dust the way Zaire seems to be.
After a few days of luxury eating at various Kampala restaurants, consuming many passionfruit juices and innumerable examples of the disasters which befall overloaded Landrovers, it was time to head for the Kenyan border. On the way we stocked up with fruit and vegetables. The produce here must rank with the best in the world. There is nothing quite like fresh Ugandan pineapple or papaya. The first fresh pineapple in Nigeria was the nicest I had ever tasted, they reached their peak in Uganda. Every pineapple since leaving African shores has seemed disappointing in comparison.
The drive to the border was much more pleasant now that the steering was under control again, even if the brakes were a little less than perfect. There were no problems leaving Uganda, once we had found the way into the border complex ,that is. The man in the Ugandan office was more interested in his newspaper than our passports. At the gate the two guards must have been fairly bored and detained us for several minutes in trivial small talk before opening the gate.